03/12
Corona virus brings disaster to the world. European countries lost double digits (DAX -12%, FTSE -11%, CAC -1%). US all major indexes also plummeted about -10%.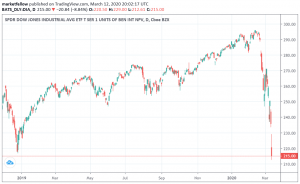 All one year gains are gone as shown in Dow Jones Index chart above.
However, the virus problem is still there and getting worse throughout US as well as in Europe, Middle East, Asian, etc.
There could be more downside to go before it stabilizes.