July 27, 2020, 5:31 pm EDT
(Featured picture is from Amkor)
Semiconductor Manufacturing and Packaging 
Amkor Technology Inc (AMKR), a  leading provider of semiconductor packaging and test services, made Q2 earning report with about +10% jump after hours quote and +13% gains on before earning announcement:
Second quarter net sales $1.17 billion, up 31% year-on-year

Operating income $87 million, operating margin 7.4%

Net income $55 million, earnings per diluted share $0.23

EBITDA $209 million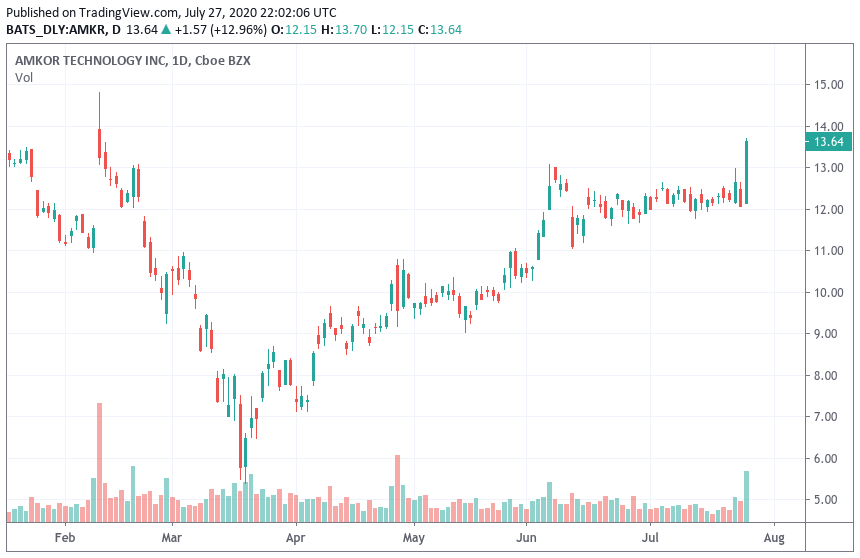 The most important highlight is not on its earning report. In fact, its futures are closely tied with Taiwan Semiconductor Manufacturing Ltd (TSM) +13%. May 15, 2020 TSMC announced it will invest and build a 12 Billion plant in Arizona that will crear 1,600 jobs in Arizona. Not only its business is so crucial to the US and Arizona, most people use smartphones (IPhone), computer,  tablet, laptop, smart watch today are mostly (> 50%) made from TSMC, its IC manufacturer. TSM made almost 100% gains (from 44-83) in 4 months, including +22% in yesterday and today (+13%). TSMC is a 380 billions market capital IC manufacturer. Not only its market dominance, but also its technology is the most advanced in peers.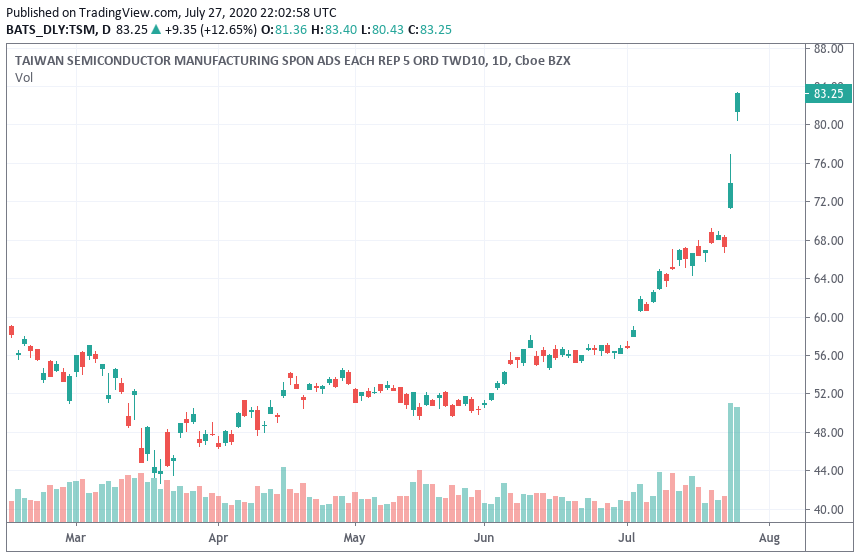 It is important to see the links between TSMC and AMKR, though there is no confirmation or any press release about partnership between these two companies. TSMC action is definitely a driving force for speculation on AMKR more than +23% gains today. 
5G technology, automotive application, network, and lots more advanced packaging technologies are necessary to compete in this field and AMKR is ready to offer their products for both TSMC and next generation product lines. In our opinion, AMKR could be the next winners in this industry for months and even years to come.