July 27, 2020, 11:36 pm EDT
(Featured picture is from Universal Display Corp)
Stock Picks: Universal Display Corp
When everyone spends so much time staring at a screen, either smartphone, tablets, computer or TV, do you ever wonder which companies specialize in making these glasses ? Universal Display Corp (OLED) is definitely one of the major R&D and makers of the organic light emitting diode, technologies, and materials. It also develops and licenses proprietary OLED technologies to manufacturers of products for display applications, such as cell phones; portable media devices; tablets; laptop computers and televisions. As long as new technology takes people away from traditional media like newspapers, books, magazines, its business seems to grow with this technology revolution.
Fundamentally, OLED has only 47 millions outstanding shares for its 8 billion market capitals. It means it can climb fast when demand comes. EPS is +21% for the most recent quarters and in-line with 3 year averages that are very consistent and impressive results.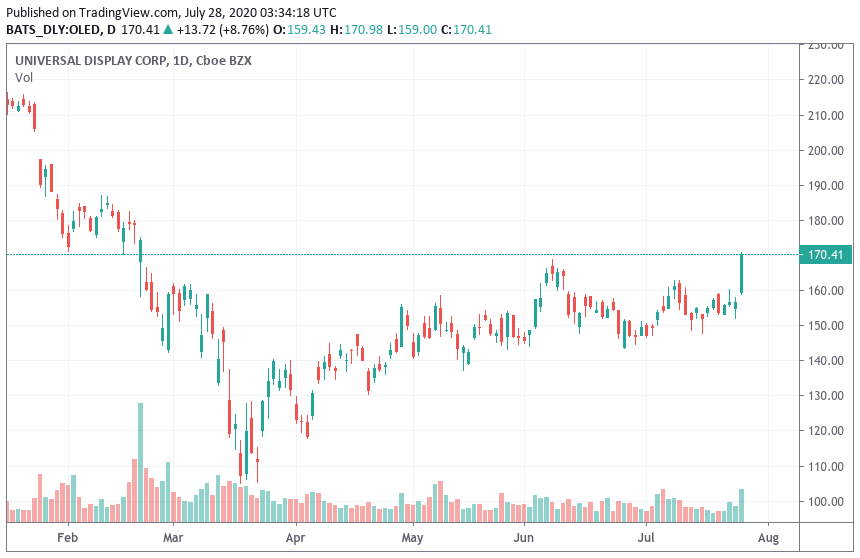 Technically, today's near +9% high volume breakout from 160 to 170 prepares its potential uptrend journey from a 3-month rectangle base. Best entry point is about 170 with a sell-stop at 160.