September 30, 2021, 5:15 pm EDT
Debt Crisis
Debt may not be a problem if it is under control. But the debt can tear you apart if the level is too high. The same principle applies to the individual, household, business, or government.
In the past 12 years, since March 2009, the US government enters into super debt mode by printing, borrowing and spending money. After all, this is the easiest thing to do until the crisis arrives eventually. 
Please check out the chart of the US debt from the U.S. Department of the Treasury and FRED.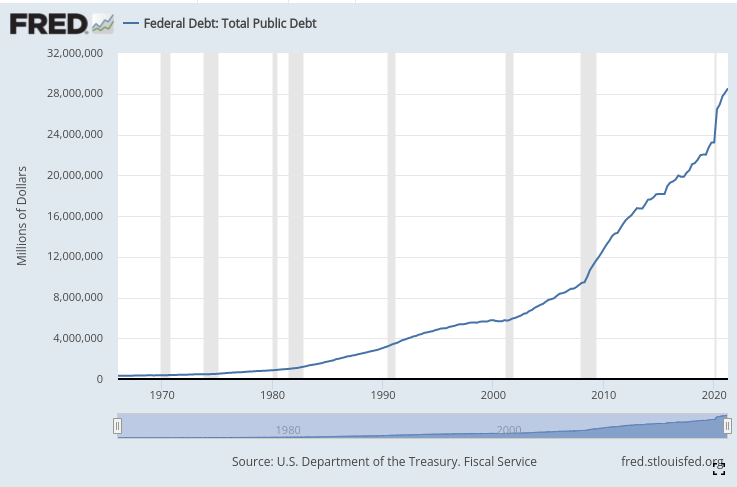 This is the hot topic that the US congress discusses how to deal with the debt limit. Currently, it is at a 28.4 trillion level, up from 6 trillion 20 years ago. Unlike personal credit limits that we can not increase by ourselves. US government can increase any level or simply remove it or facing a government shutdown. It defeats the purpose of setting a limit to remind the borrower that the risk could be out of control when the debt limit going to the deadly level. 
Reckless spending habits of stimulus, infrastructure funds, COVID-19 checks, all added up in the past 20 years so what we have today. 
This chart can serve a purpose to stay a conservative view of the stock markets. If it cannot drive any further, any triggering events like China collapse, housing bubbles, or COVID-19 resurgence, or supply chain interruption could start the downward spiral. When it happens, do not sit and hope it will stop soon because the trouble of the US debt crisis is not small.