June 27, 2020, 9:10 pm EDT
COVID-19 Resurgences
COVID-19 resurgences to new highs in both US and worldwide threaten stock markets with high volume sell-off friday 06/26 with DJIA drop more than -730 points. Please refer to data from John Hopkins University CDC for details. Worldwide confirmed cases reached near 10 millions milestone soon with death tolls of half millions.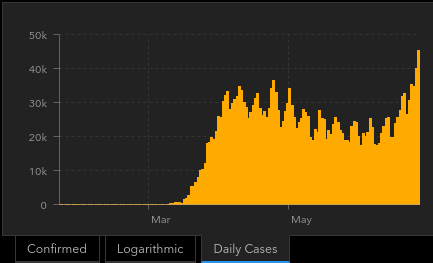 It reminds us how stock markets fell -30% from February due to initial spread of the virus. Of course, this time the situation is much worse than February. 
Although policy makers, white house and Fed banks use various tools to rescue stock markets, economy and jobs through various methods, it does not solve fundamental problems on the virus itself. Many treatments are being developed and vaccines are in the process. But it will take months to prove its effectiveness and for mass production. 
Therefore, it is likely stock markets may suffer another hit in coming weeks.