May 10, 2022, 11:29 am EDT
Household Debt and Credit Report
Is your debt increased or decreased? How about the FICO credit score? Do you know how other people are doing in the recent decades? The results are shown in the featured chart for non-housing (student loan, credit card, auto loan, etc) and housing (mortgage) debts.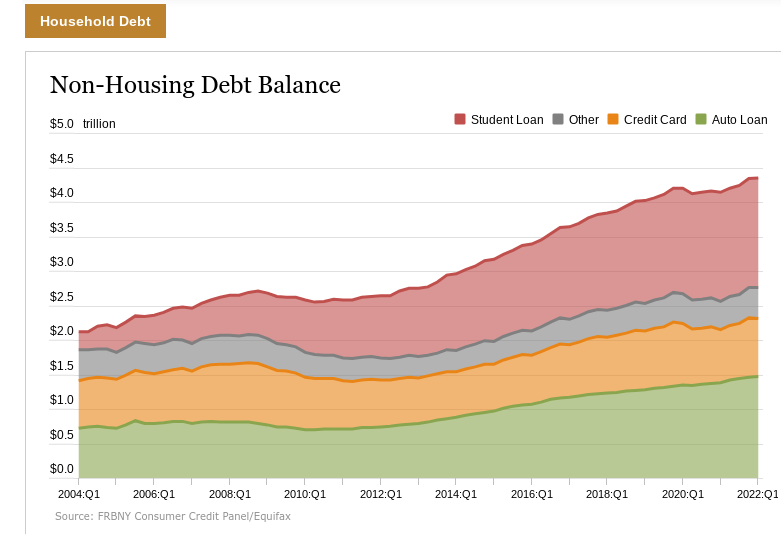 HOUSEHOLD DEBT AND CREDIT REPORT (Q1 2022)
Mortgage and Auto Loan Balances Help Push Up Total Household Debt
The Quarterly Report on Household Debt and Credit for the first quarter of 2022 shows a solid increase in total household debt of $266 billion,to $15.84 trillion. Balances now stand $1.7 trillion higher than at the end of 2019, before the COVID-19 pandemic. Mortgage and auto loan balances rose by $250 billion and $11 billion, respectively, in the quarter, although originations for both subsided from historically high levels in 2021. Credit card balances declined by $15 billion, in line with seasonal trends typically seen at the start of the year, but are still $71 billion higher than in 2021:Q1, representing a substantial year-over-year increase.
Obviously, the trend is all way go in the past ten years. During the major bull markets, both the debt and equities (stock market and housing prices) levels were consistent. What will happen to the debts when the stock markets and housing markets begin to decline? 
We can assume a scenario when a head of household lost its income (layoffs) and home-equity-line-of-credit levels are up. Also, there are unpaid credit card balances. It will be a tough time for anyone in this situation. Therefore, it is important to reduce the debt, increase the saving, and maintain marketable skills and knowledge always.
Currently, these debt charts seem to point to troublesome pictures if certain people are unable to reduce its debt level during the bear markets. It happened before during previous bear markets 2000-2002 and 2007-2008 with foreclosure on housing and troubles for daily life. 
Therefore, this is the formula of bear markets when overly leveraging on debt and the lack of savings both occurred.