June 7, 2022, 10:30 am EDT
Powerful Energy and Skyrocketing Oil Prices
The energy sector (XLE) is powerful enough to make new highs continuously for 2022 with 62% YTD gains. Looking out the Exxon Mobile Corp (XOM) +3% chart, we can see the same story of the 52-week high with 66% YTD gains for this oil mega component.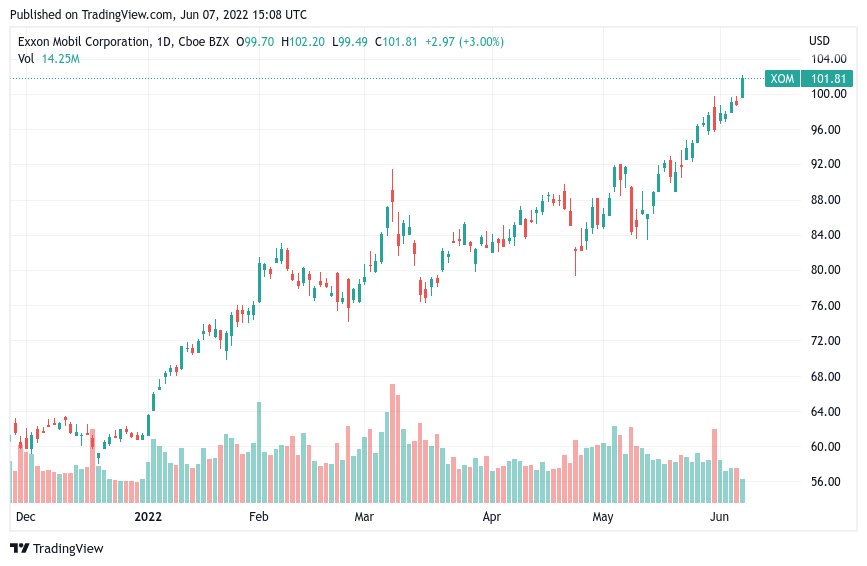 The skyrocketing crude oil price of nearly $120 is the main driving force behind this phenomenon. The extended war in Russia-Ukraine and its sanctions directly squeezed the oil supply chain out of Russia. European countries are working out alternative solutions to soften the impact of cutting oil dependence but it takes time to complete the process. Therefore, if the war continues to take place for months to come, energy and oil are likely to stay in high demand. 
Unfortunately, this is not good news for other sectors or the economy as a whole. The Consumer Price Index in May will be available this Friday (06/10) where we shall see its numbers. Some people think the top is over. But, the rising energy sector and crude oil prices seem to suggest the coming threat of its cost for all goods. 
In summary, watching the direction of energy and oil is the simplest way to gauge the direction of inflation and its potential impact on the economy.