June 4, 2021, 5:45 pm EDT
Ready to Fly and Fight – Lockheed Martin Corp (LMT)
The defense industry has been strong leaders in stock performance. Please check out the following: NOC, GD, LMT, GD, LHX, HII, BAES. 
The defense industry becomes more important to produce fighter jets in the field both in the US and abroad. 
Today, some defense stocks made a breakout or near breakout position to offer a new entry point. 
For example,  Lockheed Martin Corp (LMT) produces its famous F-35, which is among the most advanced fighter jets globally. LMT is sitting at breakout position 395 and ready to fly. The protective sell stop is 380.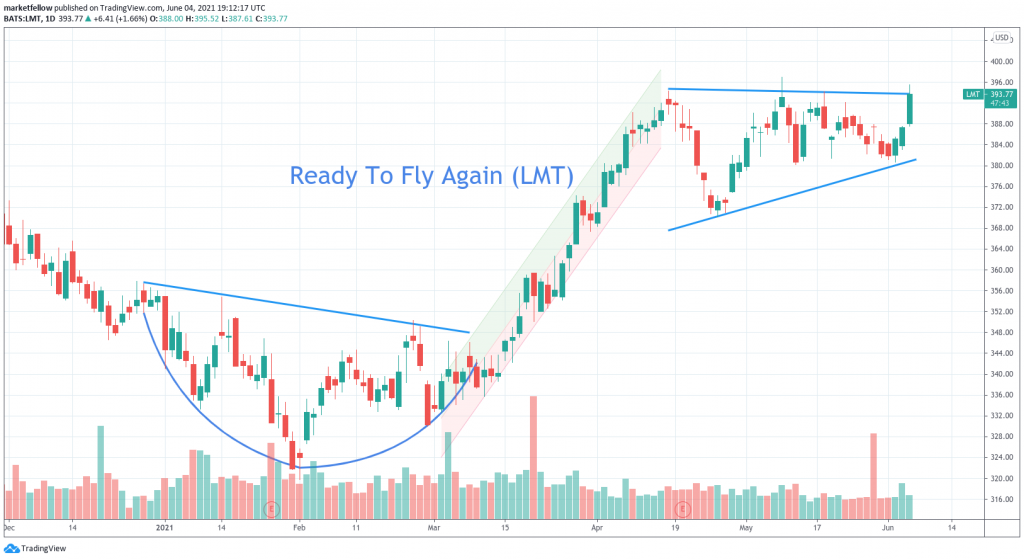 LMT prepares to produce 169 F-35 fighter jets in 2022, is in discussions with the U.S. government to finalize total aircraft deliveries and the production rate for the year, the company said in a statement.
"While initial discussions indicated 169 aircraft in 2022, we will provide a product range when finalized," the U.S. weapons maker said.
The U.S. government is Lockheed's biggest customer, accounting for three-quarters of its sales last year.