December 27, 2021, 11:33 am EST
Final Trading Week of 2021
Welcome back to the battleground of the final trading week of 2021. This week we will publish articles related to both reviews of 2021 and the outlook of 2022. Let's start with technical analysis.
Surprisingly, 2021 turns out to be another very strong and bullish year with the outstanding performance shown below:
Dow Jones: +18%

S&P 500: +27%

Nasdaq: +23%
S&P 500 made another historical high today. Thus, We have to stay bullish bias based on this reason. Later we will cover why there are cautious notes behind the shining rallies.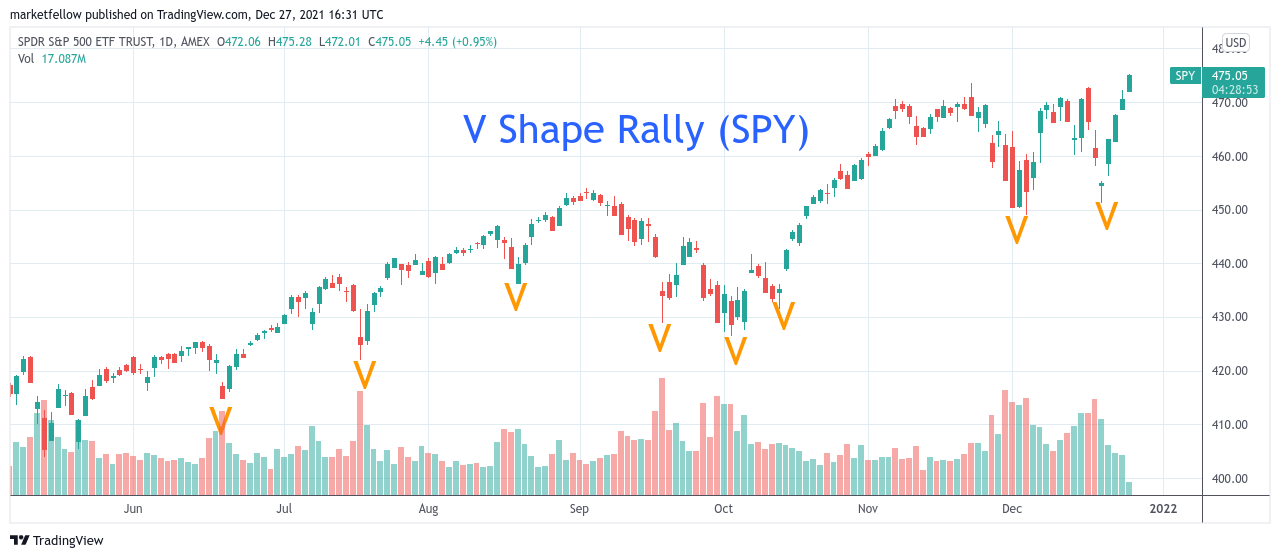 V-Shape Rally
Please note that this year there were plenty of V-shape rallies. Technically, V-shape means that the index (SPY) drops suddenly and reverses quickly to make a V-shape reversal as shown. Although the trend was going up after the V-shape, up-down volumes (up on down days, down on up days), these activities presented a warning signal. Usually, a solid base of a few months' consolidations is much more reliable than a v-shape setting. 
Mega Caps Technology
Even though indexes kept making new highs, fewer stocks participated in the rally. In fact, only a few mega-caps stocks, mostly in the technology sector, lead the index higher:
Consumer Technology: AAPL, AMZN

Internet & social: GOOGL, FB

Electric Vehicles: TSLA

Software: MSFT

Semiconductor: AMD, NVDA
Please note that these stocks have high earnings and high growth power to support their performance. Thus, if you are bullish on the stock markets, most likely you would own some of these stocks. Furthermore, the semiconductor industry seems to have more stocks making a new high so it could be another emerging industry. 
Event-Driven Rotation
There are many event-driven rotations that occurred in 2021. Some industries or stocks were pumped up for a few days or weeks only and died out:
MEME stocks: GME, AMC, PLTR, BBBY
Usually, these stocks do not have solid fundamental background or growth potential. But, they are targets for certain groups of people to use as a pump-and-dump strategy. We do not participate in those stocks in our practice. 
But, there are some events that are important for a longer period of time (weeks, months, or year) that we presented in our trades for your reference:
COVID-19 Development: vaccine makers

Economic recovery: outdoor gears, cruises

Inflation: energy, material

Security: network virus, defense

Infrastructure: alternative energy
These events provided trading or investing opportunities that are our interests so we will keep focusing on them for 2022. 
Finally, there are economic events like hyperinflation, Fed's taper / raising rates where the impact could be even stronger or bigger that we will address them later. 
Overall, 2021 will soon finish with strong gains. But, it does not mean that making profits is easy because of this V-shape rally and small groups of leaders in the mega-caps technologies. Event-driven rotations were great if market participants were able to catch them. In conclusion, 2021 is going to end with tough trading but a profitable year.