September 1, 2022, 2:04 pm EDT
Chips Cracked and China Wrecked
Computer chips company suffered badly today on the top worst-performing list of Nasdaq-100: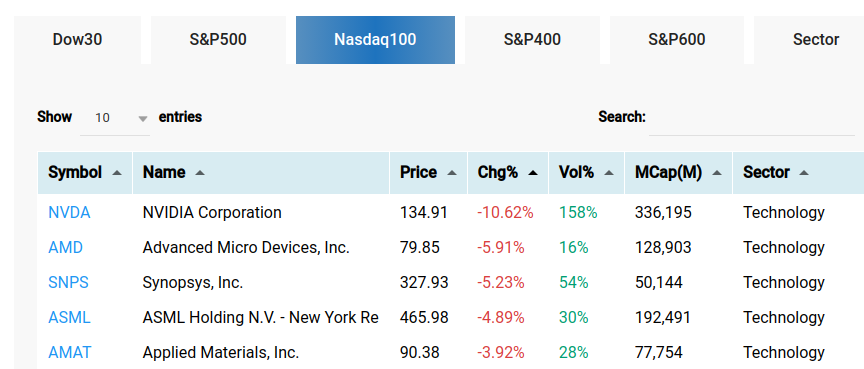 Chips Design

: NVDA, AMD

Chips Software

: SNPS

Chips Equipment

: ASML, AMAT
US export ban on advanced chips to China is the root cause. Details are available at Reuters. 
There are several important impacts and potential follow-up actions that need our attention.
First, the semiconductor-related industries are likely to keep digging to the bottom. Those once shining stars like NVDA and AMD may lose their value due to less demand in the future. We all know the impotence of the semiconductor industries to the Nasdaq index. This is also why the outlook of the high-tech focus Nasdaq could perform the worst compared to Dow Jones and S&P 500. 
Second, the confrontation between US and China is likely to escalate higher. The conflict of interest and ideology of these two super-power countries spreads from trade, intellectual property, human-right, and sovereignty, to military hardship. Last month Nancy Pelosi visited Taiwan which caused China to show its muscles with fighting jets and missiles over the Taiwan island. We believed the chips export ban is one of the counteractions to limit China's development of advanced weapons for the field. 
Lastly, we can see the stock markets and investment environment have lots more negative impacts. Computer chips, high-tech export ban, and US-China harsh relationship contributed to potential bearish elements on top of existing financial difficulties like inflation, rising rates, decline markets (jobs, housing, stocks, etc). 
Therefore, it would be reasonable to stay cautious to maintain lightweight in portfolio holdings and stay in a defense position.