February 22, 2021, 12:30 pm EST
2021 Actual Trade: RNG +25% Profits
As we mentioned in our gold member 12/02/2020 article: Stock Picks Video Conference Is Essential (RNG) 
https://marketfellow.com/2020/12/02/stock-picks-video-conference-is-essential-rng/
RNG finished with +25% profits today. 
After we got into it, it went straight up and never touched our entry point or red color in the portfolio.
It is important to compare Zoom (ZM) and RingCentral (RNG) because they both provide video conferences as their core business. 
ZM made strong gains last year due to COVID-19 Stay-Home and Work-From-Home practice. We also made a quick +45% profits on ZM:
https://marketfellow.com/2020/05/30/2020-actual-trade-zm-45-profits/
When a stock performed so well that became extended for a proper entry point, RNG provided another opportunity as an alternative choice for almost the same business.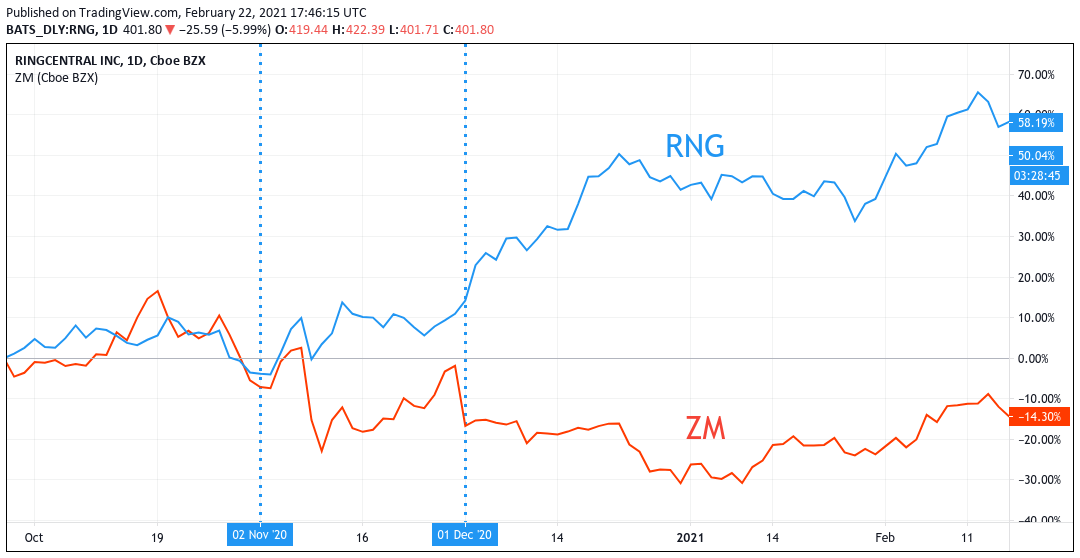 Last November we noticed ZM began to slow down but RNG picked up its upside momentum. This situation continued from November to December 2020. Thus, we decided to get in RNG on 12/02/2020.
Its four months base offered a strong foundation for its upcoming rally. Thus, the entry point is the same as the breakout point, an ideal timing. 
Then, it is an easy-ride of a straight-up run for +25% profits