December 14, 2021, 9:20 am EST
11 Years High of Producer Price Index
November PPI reached +9.6% level which made another 11 years high according to the US Bureau of labor statistics.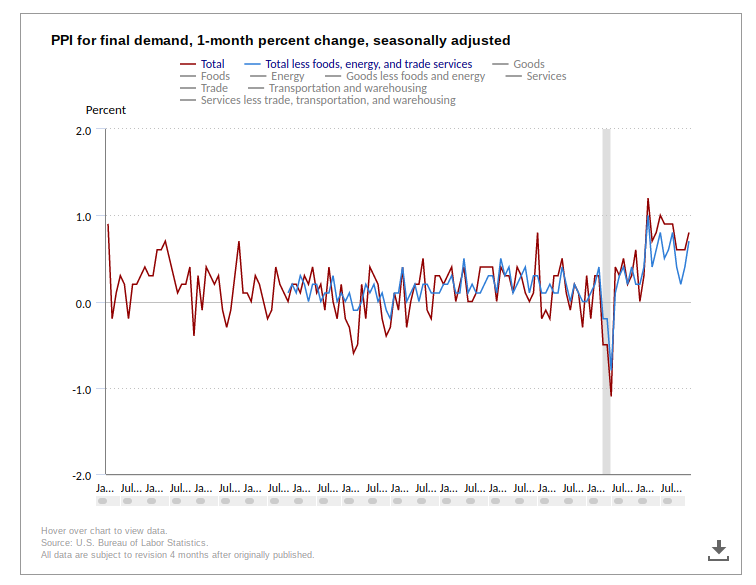 "The Producer Price Index for final demand increased 0.8 percent in November, as the index for final demand services rose 0.7 percent and prices for final demand goods moved up 1.2 percent. The final demand index advanced 9.6 percent for the 12 months ended in November."
– US Bureau of Labor Statistics
PPI or wholesale prices are heavily dependent on raw prices of materials. The big jump of all commodities in this year definitely propels the cost of the wholesale price to the sky. As we saw Consumer Price Index or CPI spiked to +6.8%, both consumers and businesses are going to feel the heat of rising prices from the goods. 
The significance of PPI is that it will squeeze the profit margins of corporations who need to produce products. Hyperinflation makes it difficult to raise the price higher for the customers because there is no strong demand for the products. Thus, business is likely to suffer or struggle in this environment. 
Eventually, consumers will notice the rising prices of everything when we go to supermarkets or grocery stores. In order to fight the inflation, Fed needs to taper and raise the interest rates. The stock markets will go through the process of bubble bursting which brings the end of bull markets.