June 12, 2022, 11:50 am EDT
Waiting for the Opportunity: Gold Miners (GDX)
While inflation is at a 40-year high, the stock markets and virtual markets (cryptocurrency) keep digging for the new lows, is there any investment opportunity available?
The precious metals gold and silver could be the answer. Before analyzing other details, let's first check out its technical perspective on the gold miners' ETF (GDX) chart.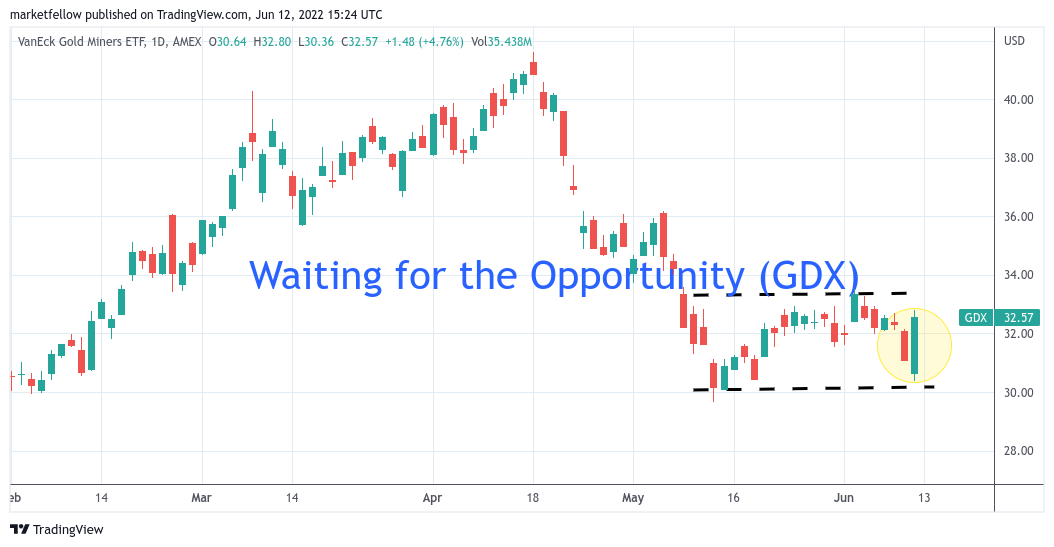 Although did not make a new high or local high, its bullish engulfing pattern could be a hint that investors look for the opportunity on gold when the major indexes were hit hard by the scary CPI 8.6% and record low consumer sentiment 50.2 revealed on 06/10. The investment money cannot find a place to go for nearly all sectors, industries, and foreign countries. Currently, energy in crude oil and natural gas is the only sector that made a new high due to rising commodities. However, there seems to be an opportunity in gold and silver. 
In addition to the technical reason, there are other backgrounds that could benefit gold and silver:
High inflation pressure

Unstable geopolitical environments: Russia-Ukraine, China-Taiwan

Coming economic troubles (Russia, China, US, European, Japan)

The potential collapse of cryptocurrencies
There are still many unknown factors to drive the upside momentum of gold. But, one safe strategy is to track the development of both gold price (GLD) and gold miners (GDX). For example, if GDX goes beyond 34, then adding probe positions could be a choice. Setting stop loss at 30 in case the breakout failed is a guard to minimize the loss. 
Gold could still be the shining star during the financial crisis as one of the oldest pieces of wisdom in investment.