Submarine Power – General Dynamic Corp (GD)
General Dynamic Corp (GD) received more than a half billion contracts from US Navy as reported 10/06 533 million.
There is no doubt that the US is getting serious to deploy its defense system for the years to come. 
The battleground is not limited to Europe regarding Russia-Ukraine-NATO combat. More importantly, China-Taiwan-Japan-Korea (North and South) region also becomes an emerging confrontation. The timing is set to alarm all countries when China's leader Xi Jinping is ready to get his next term (5 years) or forever leadership. China's near-collapse economy and aggressive military action made the US be aware of the coming threat. Especially, Xi claims to use force to take over Taiwan in his 20th National Congress a few days ago. Controlling Taiwan including TSMC will be a disaster to the world since TSMC is the leading computer chip maker. 
Therefore, submarine becomes an essential weapon in addition to fighting jets and carriers. 
General Dynamic Corp (GD) is a 60 billion market cap defense company. As mentioned in the beginning, it received $533 million in orders recently. Technically, a mega convergence pattern is formed since April 2022. So, GD prepares for its position to break out at 242 or above where the uptrend could start.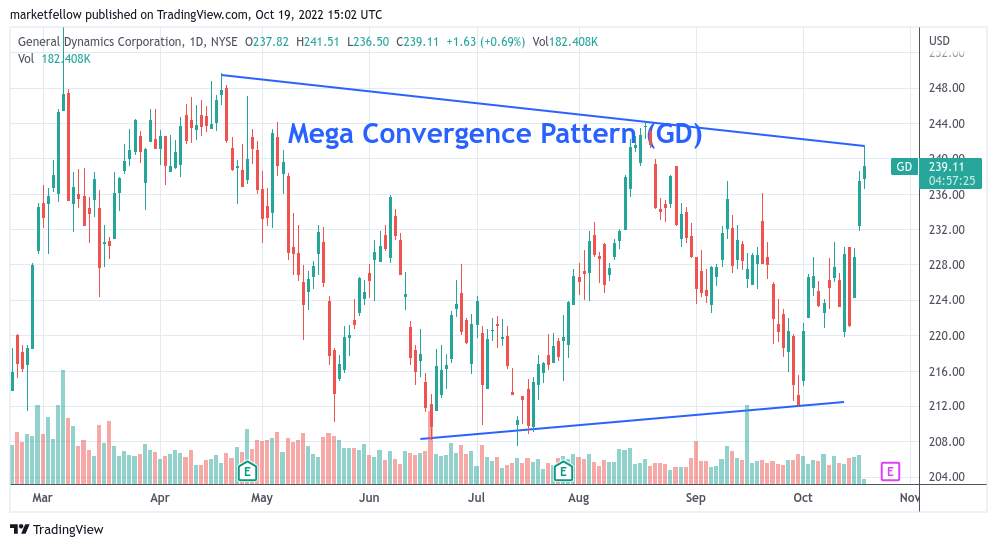 In our opinion, global warfare will only increase the need for an advanced defense system. The US-China battle will give GD a chance to show its capability. It is worthy of attention to adding GD to the watchlist.