January 26, 2023, 3:13 pm EST
Breakout After Earnings Report
Do not worry if you do not know how to read the earnings report and how to interpret it. There is an easy method to get it right. 
Similar to reading blood test results where there are many indicators and terminology that need certain knowledge to comprehend all correctly. But, sometimes you can observe a person's behavior and outward appearance to get overall health conditions. Although it may not always be correct, it is roughly right in most cases. 
For example, if a person can run and jump quickly, his heart, lungs, and muscles should be much stronger than a person who has difficulty walking or running. 
We apply this method to read the action of a stock after its earnings report. If a stock can leap after the earning reports by 5% or more, then we consider most investors like the report and feel bullish about its future also. A gap-up or new high after the earnings is even more powerful to show its strength. Therefore, these stocks are worth attention to buy it immediately or wait a few days for a pullback. 
Let's consider the following examples (NUE +8% and TSCO +6% as of now):
Details for their earnings and charts are shown below:
Nucor reports the safest and most profitable year in Company history, eclipsing prior records set in 2021

Fourth quarter and full year 2022 earnings per diluted share of $4.89 and $28.79, respectively

Returned $3.3 billion of capital to stockholders through dividends and share repurchases

Announced increased dividend for 50

th

consecutive year since initial NYSE listing in 1972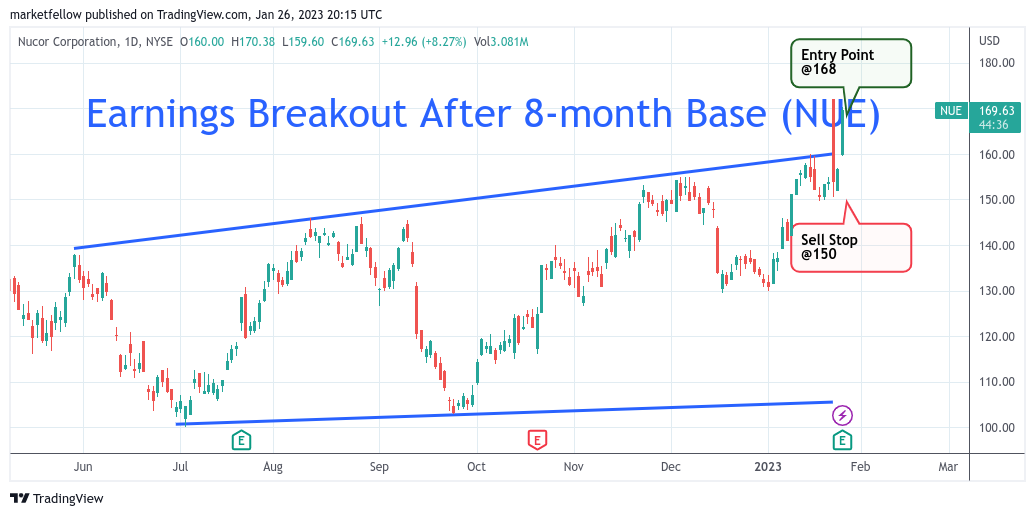 Company Delivered a Strong Fourth Quarter Net Sales Increase of 20.7% and a Comparable Store Sales Increase of 8.6% Driven by Both Ticket and Transaction Growth

Fiscal Year Net Sales Increased 11.6%; Fiscal Year Comparable Store Sales Increased by 6.3% with Continued Market Share Gains Across Product Categories

Fourth Quarter Diluted Earnings per Share ("EPS") Increased 25.9% to $2.43 and Fiscal Year 2022 Diluted EPS Increased 12.8% to $9.71

Returned $1.11 Billion of Capital to Shareholders in Fiscal Year 2022