December 7, 2021, 6:27 pm EST
Apple New Record High
Apple (AAPL) made a fresh new record high today with +3.5 gains. It contributed a major portion to all major indexes: DJIA +1.4%, S&P 500 +2%, Nasdaq +3%.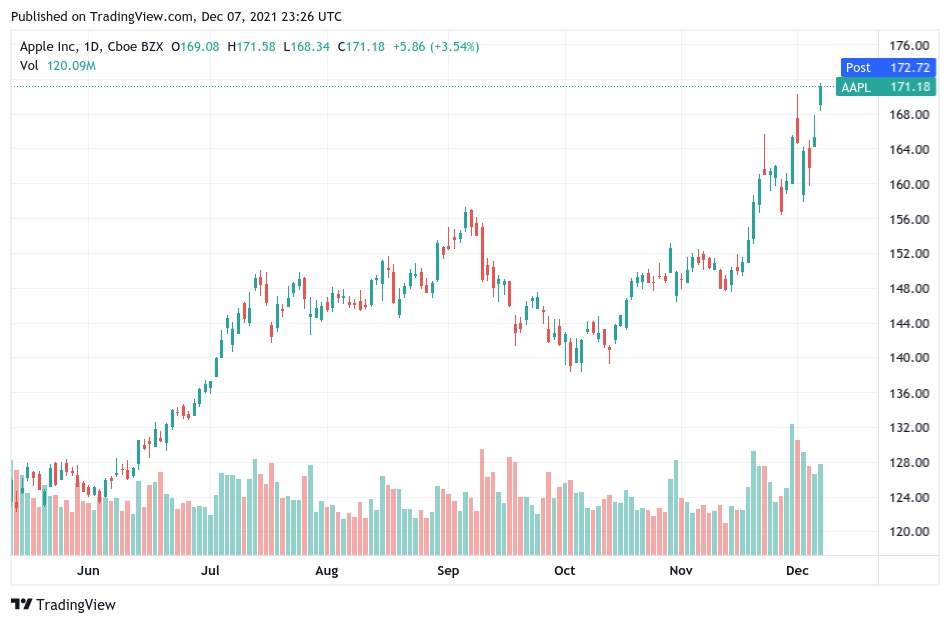 The significance of today's performance is to reclaim the bullish bias for the stock markets during the volatile two weeks after the Thanksgiving holiday. 
It began with so-called COVID-19 Omicron variants according to the World Health Organization two weeks ago. Although WHO and media made this a scary thing, yesterday market participants made decisions not to believe this story by buying lots of consumer-related stocks like airliners, hotels, travels, gaming, recreation stocks as we mentioned yesterday. 
Today, technology stocks also made up their minds to shoot higher all together as represented by AAPL, MSFT, GOOGL, etc. 
However, please note that volumes are on the light side across the board. So, there are many uncertainties at this junction. Therefore, the best strategy is to wait a few more days to let the markets stabilize first. It would be easier to see the picture then.