March 3, 2022, 4:11 pm EST
Goodness Grow: Sprouts Famers Market Inc (SFM)
Thinking about eating more healthy organic food but want to stay on budget? Sprouts Famers Market Inc (SFM) might be your choice.
Indeed, Sprouts always keep their stores clean and provide a bountiful supply of vegetables, fruits. In fact, you may notice Sprouts is very different from traditional supermarkets because Sprouts all fresh foods in the center of the stores rather than a side or corner. The main purpose of Sprouts is to offer fresh foods rather than loss-focus on various cans or packaged foods. Its root is built on the farmer's markets since 1943. After 2002, they quickly expand stores throughout the USA with more than 370 stores. 
In addition to its wide selection of foods, including organic ones, their prices are very competitive compared to expansive peers like Whole Food. Thus, SFM is ready to compete with both traditional supermarkets and high-end markets.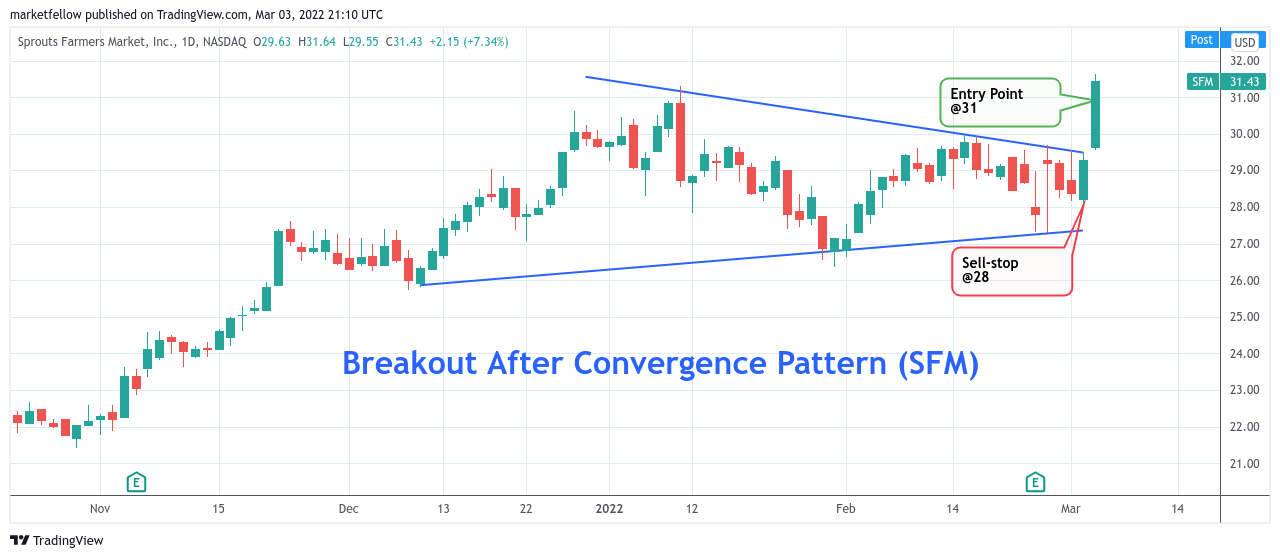 Technically, SFM jumped another +7% when all indexes were in the red colors today. Its fresh 52-week high carried a breakout out after convergence pattern and stages of setup as shown. 
In our opinion, SFM has the potential to kick out its rally from the current level for uptrend actions.