August 22, 2022, 1:51 pm EDT
The Rise of the US Dollar. The Danger of the World
The abnormal rise of the US dollar is a danger to the world. Both US and other dollar-dependent countries are going to be threatened by this unusual action of the US dollars (ETF: UUP) as shown in the chart.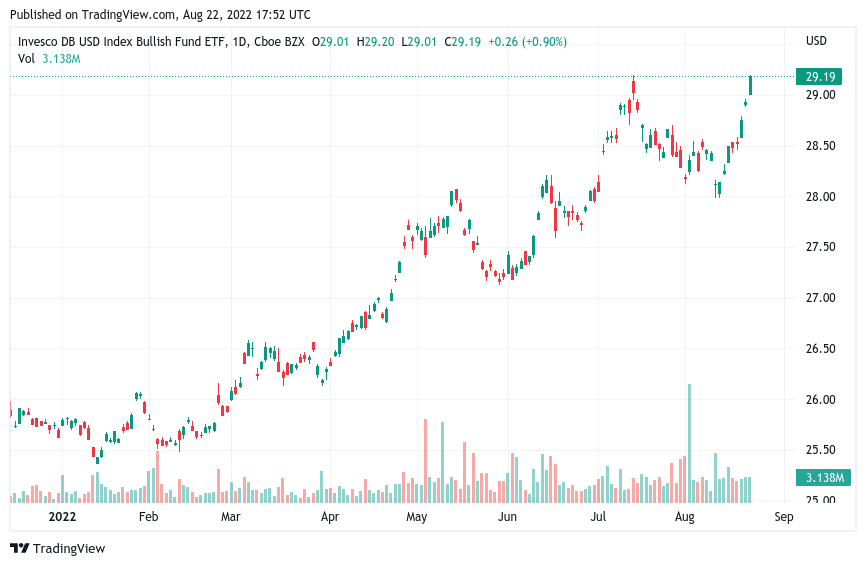 Although the main reason for the surging dollar is the rising rates policies, geo-political stabilities are equally important to watch. Russia, China, the US, Japan, and European countries are likely to involve in these political, economical, and military events in the future where the US dollar is the most reliable currency to hold for heavyweight financial institutions. 
Other smaller countries suffer significantly from the rising dollar because oil and food are exchanged through the dollar. The high dollar means that the pain of inflation will stay longer. 
The US will also feel the pain of export because its goods become much more expensive for foreign trade partners. 
The stock market seems to pull back from the rally that could be a normal process. But, we consider the surge of +14% of the US dollar in the past 6 months (from 25.6 in February 2022 to 29.18 today) to be a sign of much bigger trouble ahead.