January 9, 2023, 6:10 pm EST
Up and Down Without Progress
Dow Jones index continued last Friday's momentum of 700 points gain at the opening bell to add up another 300 points during the intraday trading. But, it quickly faded away as shown.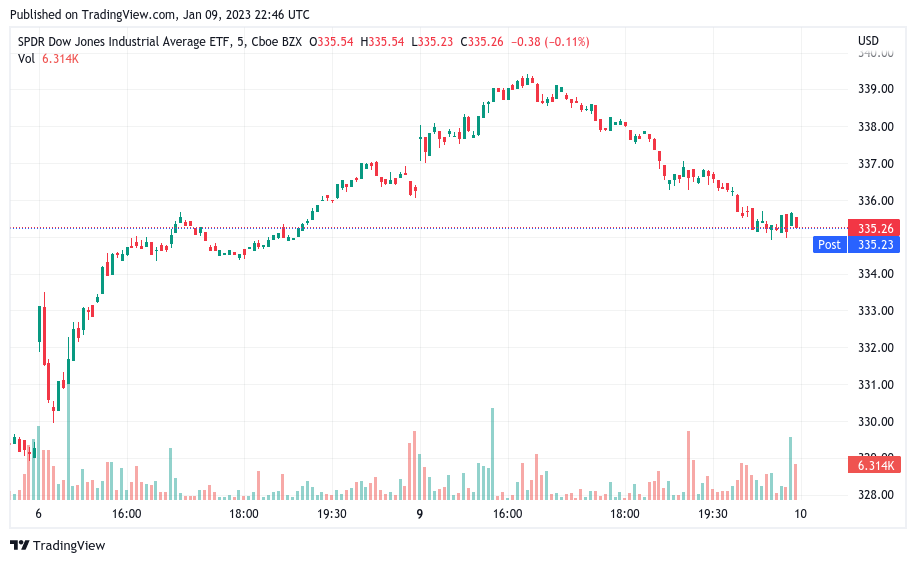 By closing, DJIA finished in the red color of a negative -113 points or -0.3%. Although Nasdaq is able to keep the gains til close, its low volume and minimum gains did not earn much respect. 
Looking closely at the market conditions, we can see the beaten-down tech names struggle to rebound (AAPL, AMZN, TSLA) a bit. However, it is simply a dead-cat bounce in technical terms. The big picture of the worsened economy already spread out from China to the rest of the world. Bankruptcy rumors in Bed Bath and Beyond (BBBY) and layoffs news from Goldman Sach seemed to become the mainstream news for 2023. 
Thus, it is important to understand that bulls do not have enough power to overcome the pressure of inflation, a slow-down economy, and global weakness. Any jump in the downtrend is simply a short-term bounce rather than a sustainable uptrend, in our opinion.