July 15, 2023, 10:41 am EDT
Leader vs Laggard
What is the performance difference between the major indexes in the US stock market? The answer is 10X.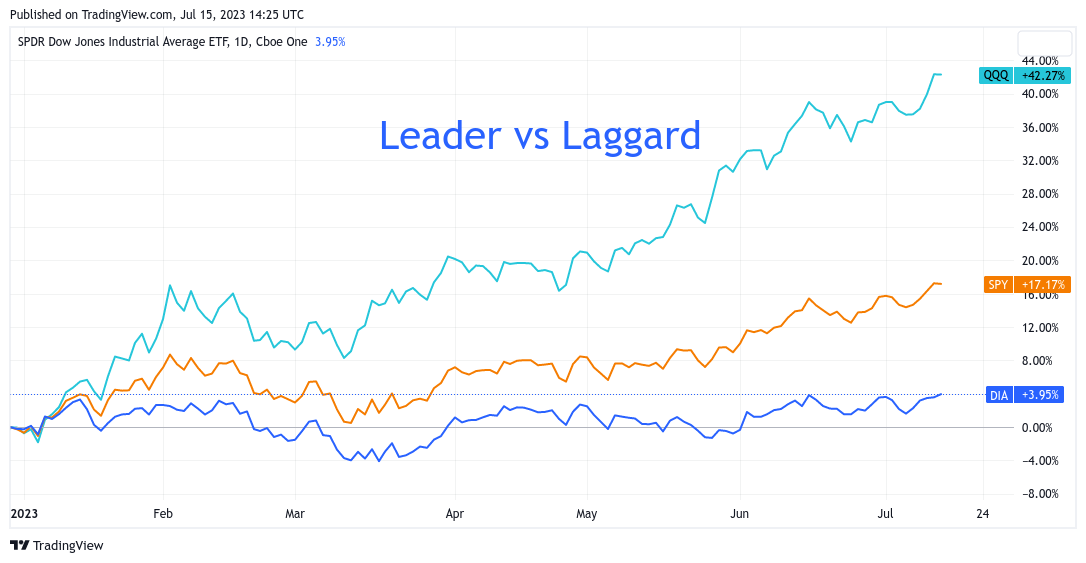 Year-To-Date Performance on major indexes:
Nasdaq-100 (QQQ): +42%

S&P 500 (SPY): +17%

Dow Jones (DIA): +4%
If you bought META or NVDA on the first trading day of 2023, your gains could reach 156% or 211% in just about 6 months plus two weeks. 
However, if you do not have them, it is not a good idea to chase them at these levels. These high flyers are already too high for entry. A short-term pullback could put you in a red color in the portfolio. It does not Nasdaq or mega-tech is done with the rally. It is simply not a good time to get in. 
So, what should be the trading or investing strategy at this moment? 
Our answer is to pay attention to the laggards. For example, Dow Jones stocks could be a place to look into. 
Another example is the healthcare stocks that performed well yesterday on the top 5 list of S&P 500:
UNH +7%

ELV +5%

CI +5%

LLY +3%

MOH +3%
One more thing we can learn in the future is that investing in the Nasdaq index, QQQ, or Mega-techs at the beginning of the rally will get a big reward. Thus, when the chance comes again, take action to catch it.