May 1, 2022, 10:57 pm EDT
Case Study of Bear Market – Amazon (AMZN)
Last Friday 04/29/2022 Amazon (AMZN) lost -a 14% gap down triggering heavy selling for the entire stock market. It served as a milestone for the beginning of the bear cycle, in our opinion. It would be interesting in studying on knowing how low it could go for the bear market. 
We do not need anyone's opinion. Let's history gives us the answer. 
Amazon began popular as an online bookstore when the internet was born during the 1997-1998 timeframes. It became so convenient to buy books by using a browser and entering the book name to order a book at that time. Thus, its stock price rocketed from $10 to $100 within the year 1997-1998. It means a nearly 10X return. The entire mania of the websites and internet brought the Nasdaq index a climax run from 1400 to 5000 from 1998 to 2000. Obviously, the parabolic run is not sustainable because it was simply a bubble. When it burst, Nasdaq went down from 5000 back to 1400 in 2002. Similarly, Amazon took the same roundtrip from 100 back to 10 again as shown.
Then, it took another 8-9 years for Amazon to reclaim 100 with its successful business model with almost everything available accomplished by Jeff Bezos, its founder. 
Our main focus is to show you that a bear market can knock down -90% of its value.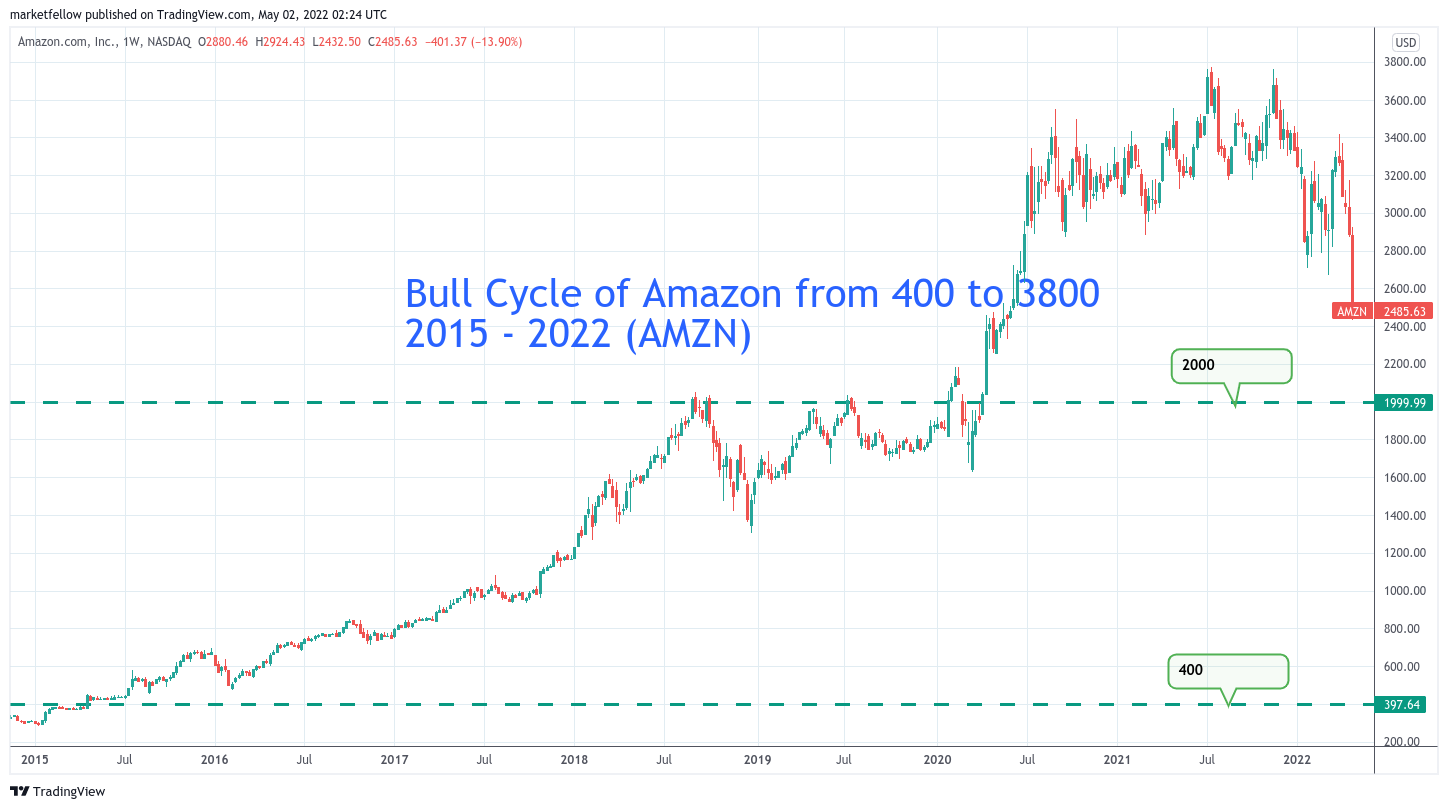 Now, let's bring back our timeframe to today on AMZN again. We can see AMZN rallied from 400 to 3800 during the year 2015-2022. If this bear market hit AMZN mildly, then maybe AMZN can find support at 2000. But, if the bear is powerful, the next level down would be 400 which counts as a nearly -90% drop. 
We do not know where AMZN will go. But, history provides a reference for us so that we do not rule out its possibility. Because it happened before and it could happen again.