November 27, 2021, 10:40 pm EST
Stay Alert
Friday (11/26) had surprising news that hit global stock markets with a sharp sell-off from the development of COVID-19, US and Japan lost about 2.5% and European indexes were down about 4%. It was a bad outcome because of many unknown variants of the disease. Furthermore, the effectiveness of the existing vaccines is to be checked. Are all previous efforts of vaccines becomes invalid? How fast a new vaccine may come out? How bad is the spread of the new variants from South Africa? When we will be back to normal life after two years of limitations?
There will be hundreds of questions but nobody has an answer to them. Thus, let's use technical analysis to analyze the current conditions for all major indexes (DIA, SPY, QQQ)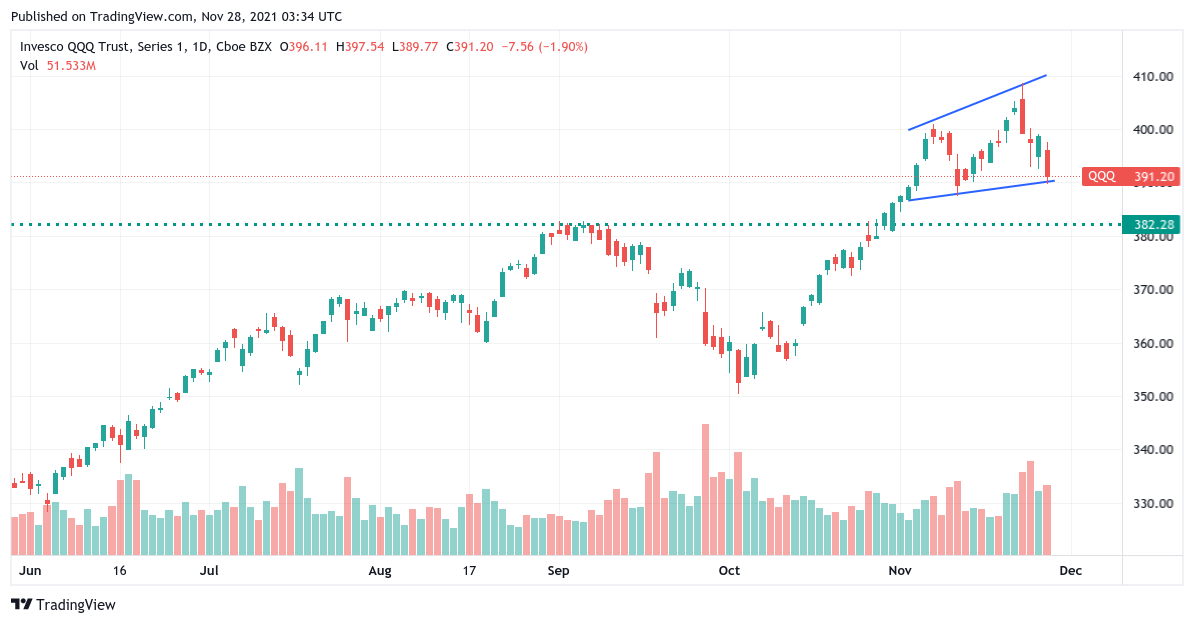 Dow Jones (ETF: DIA)

: It is the weakest index among the three. It was down about -4% from the record top made a couple of weeks ago. It failed to hold both short-term (20 DMA) and medium-term (50 DMA) trendlines but it did not make a new local low. So its bias is a mild bearish. 

S&P 500 (ETF: SPY):

The drop made a breakdown. However, S&P is only -2% from the top few days earlier. Thus, there is nothing severely wrong with the picture even it was below its short-term (20 DMA) trendline. Therefore, S&P keeps its bullish bias.

Nasdaq (ETF: QQQ):

Nasdaq100 QQQ is similar to SPY where it is able to stay above the dashed line where it made a previous peak and breakout for the uptrend. It did not show big trouble yet from its chart. So, let give it a bullish bias also.
Overall pictures did not look too bad at all. However, their sharp drop caused by such bad news still reminds us to stay alert on investment actions. It serves as a major warning signal if the COVID-19 becomes worse again. It will definitely hit the global economy again. 
In summary, it is time to stay alert on watch the development of COVID-19 worldwide. We should airlines, retailers, travel, hotels, or any COVID-19 sensitive companies. Technology stocks are strong so far so there is no problem yet. Few healthcare or drug makers look bullish again that are worthy of attention. If there is another follow-through of breakdowns in the next few weeks, then the full scale of bear actions may be revealed that we should be taking actions to trim down positions.