May 4, 2022, 12:01 pm EDT
Packaging Everywhere: Amcor Plc (AMCR)
Packaging is everywhere in our daily life including beverages, food, healthcare, personal, and home care. This is a necessary requirement when searching for our Stock Picks for the bear market. The candidates must provide products and services that are essential for our daily living. 
Amcor Plc (AMCR) meets this requirement well. In addition, many investors satisfy with their earning report that is released today: 2022 Q3 Earnings.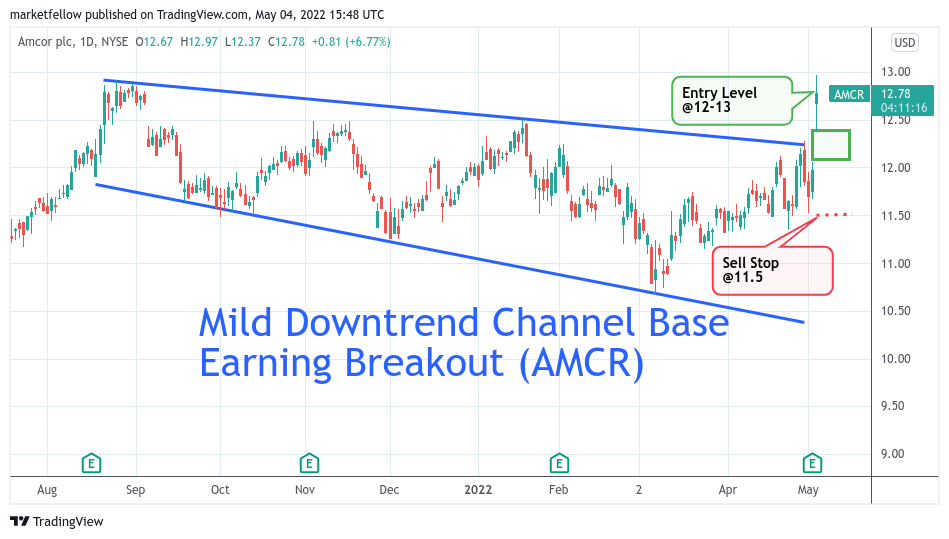 Its stock price began its new 52-week high today with a gap-up action +7% gains as of now. Technically, AMCR set up a 9-month mild downtrend channel as its base. Today's earnings provide a gap-up breakout of this pattern. This could be a beginning point for its potential rally. 
Please note that a few stocks could perform well during a bear market with solid earnings and the defensive nature of their industry. AMCR may have a chance to survive and prosper with our discipline of risk management with entry and sell-stop levels shown.